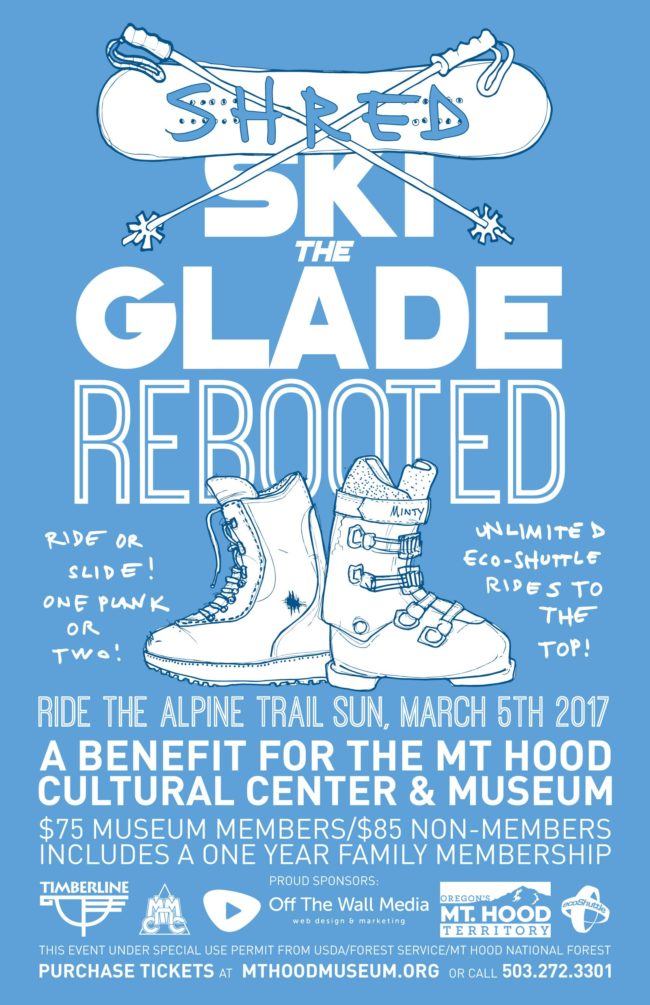 Ski the Glade Rebooted Tickets
March 5, 2017
2017 adds a second day to Ski the Glade – (Ski the Glade) 2.0 Rebooted. Targeting a younger crowd of skiers and snowboarders this is an exciting addition to the museum's event schedule. Sunday's activities will begin at the museum again with the same shuttles to Timberline. Skiers and boarders will be able to ski the Glade Trail or the Alpine Trail. Lunch will be at either Phlox Point or the Taco Shoppe. Apres ski will be heavy on the PBR's featuring Tenbrook bluegrass band and a photographic exhibit by Darcy Bacha, a Rhody resident who has created quite a stir with his cutting edge photography.
$75 per museum member (use members-only discount code during checkout)
$85 per non-member (includes one-year family membership)
You will receive a receipt by email after purchasing your ticket(s). Please print this receipt and bring it with you on the day of the event to redeem it for your ticket(s).
80 in stock