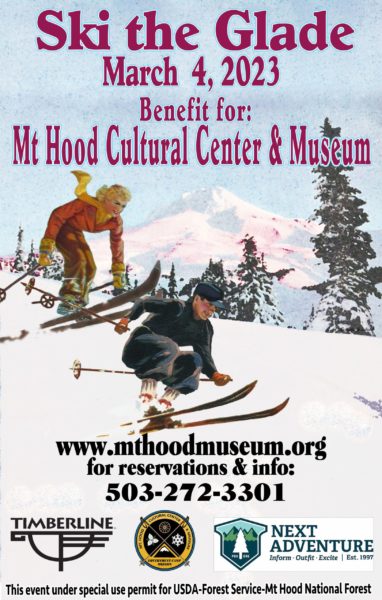 Mt. Hood Cultural Center & Museum
It's the 21st Annual Ski the Glade coming March 4, 2023!  Join the fun and be treated to: a continental breakfast, shuttles to Timberline all day, guide, gourmet lunch, Ski Patrol services, Apre ski wine party.
After beginning the day at the museum with a continental breakfast, participants receive shuttle transportation to Timberline, ski the trail at their leisure and meet the bus at the end of the trail to return to the top. Timberline Lodge, an event sponsor, grooms the Glade Trail prior to the event to ensure there's great terrain for all participants.
When ready for a break, attendees can drop by the museum for a hot lunch featuring homemade gourmet soups and delicious accompaniments. Throughout the day, participants are encouraged to wear vintage ski clothing. At day's end, an apres-ski party will include beverages, snacks and prizes. Additional prizes awarded for those dressed in the best vintage ski wear.
Ticket Prices:  $185.oo members.  $195 non-members.  Can purchase membership first.  Children 12 and younger $125.00 with a family membership.
Only 75 tickets will be sold so call the Museum at 503-272-3301 to purchase your tickets! Tickets must be purchased in advance.