When:
January 20, 2018 @ 3:00 pm – 5:00 pm
2018-01-20T15:00:00-08:00
2018-01-20T17:00:00-08:00
Where:
Mt Hood Museum, Government Camp, OR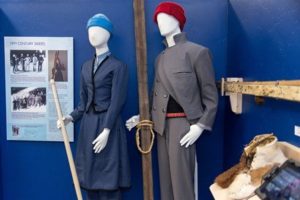 Long before the invention of the wheel, humans used skis for winter transportation. The entire history of skiing, including the journey from Scandinavia to the Pacific Northwest, will be on display at the Mt. Hood Museum when the traveling exhibit "Winter Comes: Oregon's Nordic Ski History," opens in January. It will be on display through June.
Designed and built by the Deschutes Historical Museum in Bend, the exhibit is the result of years of research into the state's ski history by the Oregon Nordic Ski Foundation (ONSF). The exhibit was created in partnership between the Deschutes museum and the ONSF, with major funding from the Oregon Cultural Trust and the Bend Cultural Tourism Fund.
Nordic skiing flourished in Oregon during the late 19th and early 20th centuries, providing an early means of winter transportation, but also a love of outdoors and a thirst for competition. Interest in skiing grew after World War II with the return of Americans who served in the famous 10th Mountain Division, a battle group trained to deploy on skis.
With both historic photos and artifacts, the exhibit highlights the development of skiing from prehistoric times to the present. It includes the oral histories of the sons and daughters of ski pioneers exploring the backwoods of Oregon on two skis; skis and outfits across the decades; and tales of the entrepreneurial Nordic immigrants who brought their beloved sport to the Pacific Northwest.
The exhibit was curated by Kelly-Cannon Miller, executive director of the Deschutes County Historical Society and Tim Gibbons of the ONSF with local historian Tor Hanson. The exhibit opened at the Deschutes museum in 2016 and was most recently on display at the Nordia House in Southwest Portland.
A grand opening for the exhibit at the Mt. Hood Cultural Center and Museum will take place on Saturday, Jan. 20, beginning at 3 p.m.