Museum Membership
Become a member of the Mount Hood Cultural Center & Museum and help support the history and culture of Mount Hood.
A LONG STANDING TRADITION By Lloyd Musser Ask any Mt. Hood skier over the age of 25, to recall a memorable skiing event on Mt. Hood and they likely will recall fond memories of skiing the Glade Trail.  Should the skier be older that 50, they might also recall skiing the Alpine, Cascade, Mazama or […]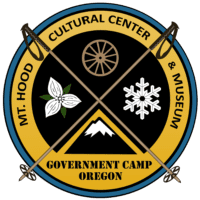 The Mt. Hood Museum & Cultural Center is located in the Village of Government Camp. 
88900 Government Camp Loop,
Government Camp, OR 97028
Telephone: 503-272-3301
email: info@mthoodmuseum.org
Open 9am to 5pm Every day
Closed Thanksgiving & Christmas
Government Camp, OR
43°
Rain
7:31 am4:24 pm PST
Feels like: 39°F
Wind: 5mph SSW
Humidity: 89%
Pressure: 29.86"Hg
UV index: 0