Looking for a venue for your event on Mount Hood?
The Mt. Hood Cultural Center is the perfect place for a small business meeting, workshop or party. Located in the heart of Government Camp, the building is fully ADA accessible with easy parking. Your attendees can soak up a little Mount Hood heritage and culture while attending your event.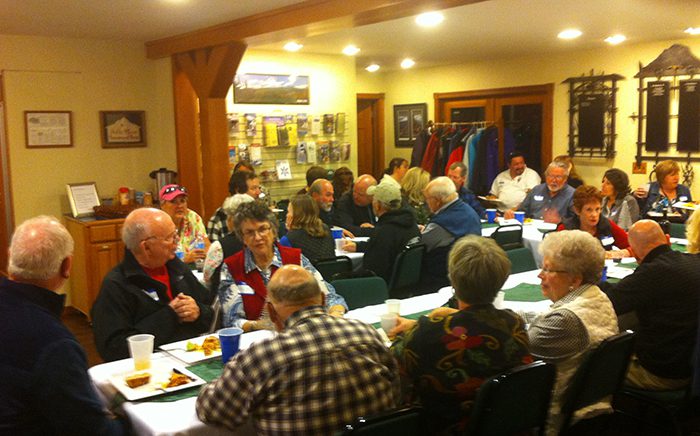 The Meeting Room
The meeting room is located on the main floor and is suitable for classroom seating of up to 40. This room can be combined with the Clubhouse for a stand-up event or for a sit down dinner. The capacity for a sit down dinner is 40, while a stand-up event is limited to 60. Chairs, tables, lectern, PA system and projector screen is included.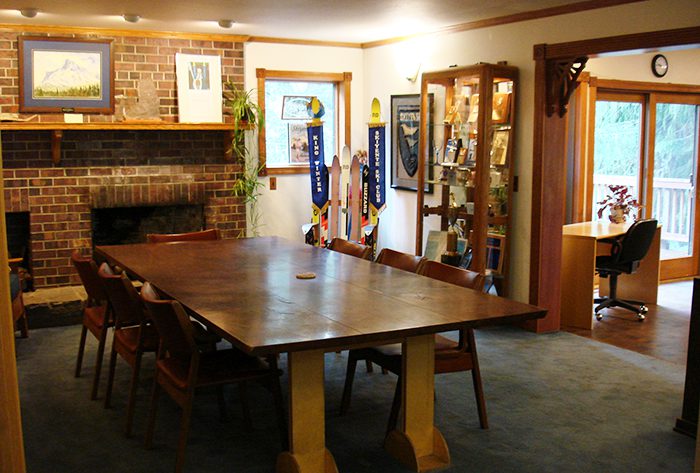 The Clubhouse Room
Located on the main floor, this room is warm and feels like a vintage outdoor clubhouse. The room is ideal for a meeting of up to 12, seated at the large conference table.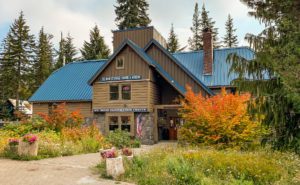 The Entire Museum
Rent the entire museum, after hours, for a reception or other stand-up mixer type of event. Your guests will enjoy exploring the history and art galleries while meeting old and new friends. The capacity for this type of event is 100 guests.
Catering
Food and beverages are permitted in the Clubhouse and Meeting room and may be extended into the galleries, dependent upon the event.
Alcohol must be served by licensed OLCC servers. You are responsible for securing the necessary liability insurance.
Other than snacks, coffee and beverages, all food served must be prepared and served by one of our approved caterers. A list is available upon request.
Rental Guidelines
It is your responsibility to set-up and break-down your event. These tasks must be completed within the rental period. Special arrangements may be made if additional time or help is needed.
All deliveries, pick-up of equipment, and supplies for the event, must be made within the rental period.
General Clean-up after the event is your responsibility. Contained trash and recyclables may be left in designated area.
Additional charges may be incurred if any exceptional clean-up is required.
Contact
For more information call Cheryl at 503-272-3301 or email with "Rental Inquiry" in the subject line.