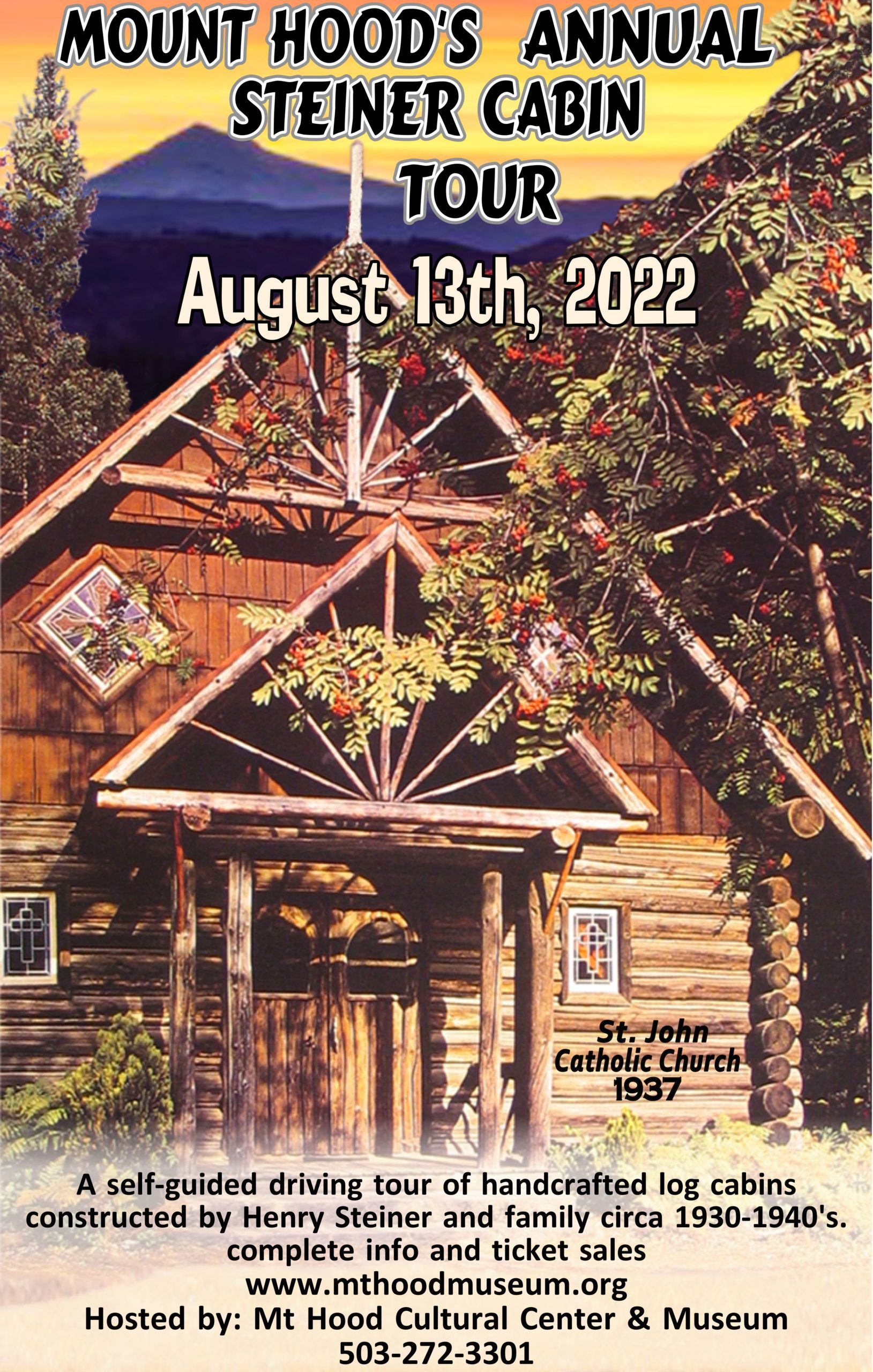 St. John Catholic Church to be Featured on Steiner Cabin Tour This Year
Something very special awaits Steiner Cabin Tour participants this year. On August 13, 2022, in addition to seeing inside the Welches homes included, participants will also tour through the St. John Catholic Church, built in 1937, by Henry Steiner. This is the first time the Church will be on the tour since recent restoration work has been completed. "We're very excited to include the Church this year; it is spectacular!", said Lloyd Musser, Museum Cura
tor.  
     Event tickets go on sale July 1, at 8:00 A.M., online at 
mthoodmuseum.org
. Tickets are $35 each for museum members and $40 for non-members. The website shopping cart will encourage paying
for tickets with a PayPal account, but purchasers may pay with a credit card by following the instructions.
     All ticket sales will be final, no refunds will be offered. However, ticket holders may transfer their tickets if they're unable to attend. Tour guests should bring their printed receipt and claim their eligibility wristband within the first hour of their chosen start time. 
     The tour will begin at the Hoodland Senior Center, Mount Hood RV Village, 65000 E. Hwy 26, Welches, approximately 15 miles east of Sandy, OR. A map for the tour route will be provided; participants are expected to follow the route.
     A limited number of 300 tickets will be sold for three starting times: 9:00 A.M., 11:00 A.M., and 1:00 P.M. The tour can be finished in 2-3 hours and will conclude at 4:00 P.M. To prevent traffic back-ups and allow for parking on this self-guided, driving tour, 100 tickets will be sold for each time slot.
     The cabin owners will graciously share the history and unique features of their treasured Steiner cabin. The tour is like a typical home tour except it features all log cabins hand built in the 1930's. The usual etiquette rules apply: no pets, no high heels, no strollers in the homes, small children are not recommended, wear booties if requested. 
     Proceeds from the event will benefit the Mt. Hood Cultural Center and Museum in Government Camp.
Hoodland Senior Center will be selling doughnuts, muffins and coffee to support their "Meals on Wheels" program! Please support them.
2022 Steiner Cabin Tour / Henry Steiner Background  
Henry Steiner: Quintessential Northwestern Builder
When Henry Steiner, a craftsman who emigrated from Germany, began making his signature cabins, his intent was to create functional and economically assembled homes, not idyllic cottages that seem to come right out of a fairy tale. However, that's exactly what happened. His cabins –many of which are dotted around the Mt. Hood area— are precisely what one might imagine if asked to think of how that storybook "cozy little cabin in the woods" might appear. Over the years, Steiner's sons, Fred and John, began helping their father with construction of the cabins.
Steiner is famous for using the native materials found onsite or locally for his cabins –sometimes used in very unique ways. Signature aspects of most Steiner Cabins include a "wagon wheel" or "sunburst" gable, a basalt rock fireplace, arc-shaped front door made of a split curved tree, gnarled tree root used for a front door handle, and unique log beams supporting the gabled porch roof.
Henry and family built over 100 cabins and churches during the years 1927 – 1952.  Most of the structures are between Government Camp and Sandy on the south side of Mount Hood.  A cluster of thirty cabins are located in the village of Rhododendron. 
Henry Steiner is considered a master of the Oregon Rustic style and the tour is designed to acquaint visitors with both this native Northwest design as well as to offer a chance to tour wooded cabins ostensibly straight out of a storybook.